Pollution threatens life in Iraq's Tigris River - middle east monitor
The Iraqi Observatory for Human Rights, on March 22, 2023, stated that water in Iraq is severely contaminated and that oil, medical wastes, and wastewater are poured into rivers.
Iraqis have, for years now, been drinking water that is contaminated with feces, oil, and wastewater. Moreover, consecutive governments in Iraq have failed to address the central problem of water pollution, further representing a significant source of many diseases that Iraqis suffer from. This failure comes despite the "booming" federal budgets passed by the Iraqi legislature over the past two decades.
Amid the annual increase in the country's population, water pollution levels are rising in Iraq while the water filtering infrastructure continues to deteriorate, and the amounts of oil and medical wastes that are chiefly disposed of in rivers continue to increase.
An Iraqi doctor who works at one of Iraq's public hospitals told the Iraqi Observatory for Human Rights, "The waters of the Euphrates and Tigris rivers are not suitable for drinking and are a key source of cancerous diseases, especially in the southernmost governorate of Basra."
The doctor, who spoke on condition of anonymity over the fear that he might be slapped with penalties at work, added, "I have examined many cancer patients and found that water contamination has been a root cause behind their sickness was water. Our waters are severely contaminated."
Water policies and strategies expert Ramadhan Hamza told the Iraqi Observatory for Human Rights that the water contamination problem in Iraq stems from the fact that the water flowing into Iraq from upstream states, Iran and Turkey, "is originally contaminated."
Hamza added, "The water flowing into Iraq from these two states is scarce and carries sewage line wastewater and chemical fertilizers used for farming and irrigation projects in Iranian and Turkish cities. These waters enter Iraq while they are non-potable."
Issa Al-Fayyad is the director-general of the technical department at the Ministry of Environment.
In a statement he gave to the Iraqi state TV, Al-Iraqiya Channel, on March 7, 2023, Fayyad said, "The main reason causing water pollution [in Iraq] is that most sewage wastewater pours into rivers without treatment. While the sewage plants in Baghdad are designed to treat wastewater of only three million persons, some eight million people reside in the capital."
Citizens, government, and oversight officials who pass by the Tigris River in Baghdad, are witnessing how the body of water is transforming into a dump for the wastes of hospitals and medical centers, as well as power plants and oil refineries.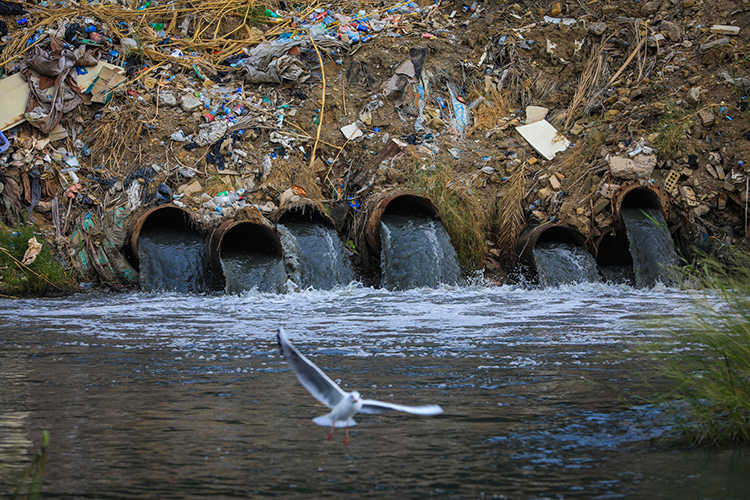 Sewage discharge into the Tigris River in Baghdad - (Mortada Al-Sudani / Anadolu Agency)                     
Basrans drinking contaminated waters
Once a week, 28-year-old Sajjad Al-Assadi buys water from a basin truck to fill out his family home tank from a local water purification plant. Assadi lives in the Al-Mohandessin neighborhood in the southernmost Iraqi governorate of Basra. His tank can hold one ton or 1000 Liters of water, which he buys for 10 thousand Iraqi dinars (approximately 7US dollars).
The Basra-based Assadi family of five consumes one ton of water each six to seven days. The water delivered to them from water supply systems has been contaminated for years. As a result, thousands of water-poisoning cases are recorded yearly among those who drink or use this water for cooking.
As a result, the people of Basra fear using this water for purposes other than washing and watering or uses other than human consumption. Assadi says that when he wants to shower, the first thing he does is smell the water and taste it. "Sometimes I find that the water has a salty taste or unpleasant smell, so I leave it," Assadi tells the Iraqi Observatory for Human Rights.
Assadi elaborated on the lab results of a test done on a sample of the water delivered through supply systems in the residential neighborhood he lives in. He said, "After examining the test results, it was proven that the contamination levels were quite high. Days prior, hundreds of poisoning cases that were caused by water contamination were recorded, and local hospitals were chockful of patients."
In 2018, Basra was a scene of widespread protests after a mass wave of water poisoning hit the southern governorate and led to the transfer of some 118 thousand persons to Basra's dilapidated hospitals. According to Assadi, such cases of water poisoning, whether mass or individual, are still recorded in the governorate.
Hassan Sabah is a renowned Basran activist.
Sabah says, "The problem is amplified in the center of Basra governorate, as well as its east and south. Tap water is unsuitable for human, animal, or agricultural use, and not even for washing."
Speaking to the Iraqi Observatory for Human Rights, Sabah added, "The illnesses caused by water contamination in Basra are plenty, with the most common of them being skin diseases."
The Iraqi Observatory for Human Rights examined an academic report prepared by Iman Kareem Abbas, an instructor at the University of Basra's geography department. In the report published online under the title "Wastewaters and their Impact on Basra's Internal Rivers," Abbas identifies a group of diseases resulting from water pollution. These diseases include anemia, botulism, cholera, microbial diarrhea, and salmonellosis.
In her research, Abbas studied the environmental reality of sewage wastewater pouring into rivers in Basra between 2016 and 2017. She relied on unpublished official data. Even though her research dated several years ago, Assadi and Sabah, both native Basrans, assert that the same diseases are still recorded among the governorate's population today.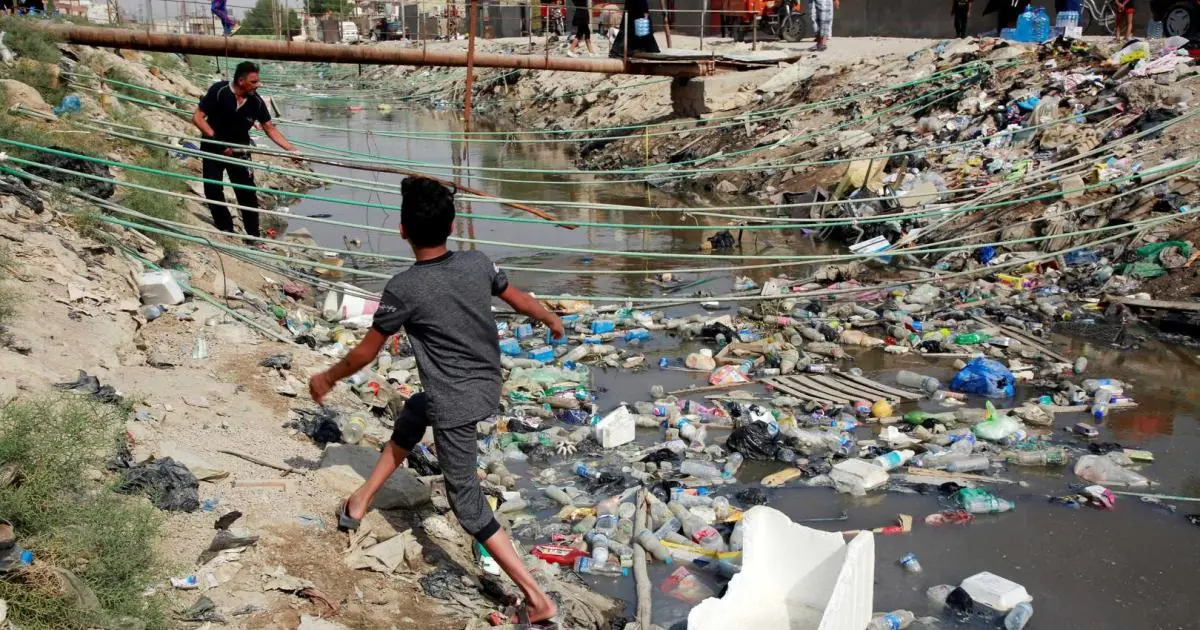 Children playing in a river full of waste in central Basra Governorate - (Alaa Al-Marjani / Reuters Agency)



From Duhok to Basra: Polluted Waters
The water pollution problem is many years old and is not exclusive to Basra alone. Moreover, natural factors, including drought, saltwater, and high amounts of Total Dissolved Solids (TDS), are not the only cause behind water contamination. People and government facilities and institutions, including hospitals and oil refineries, are also contributing to the problem.
Water policies and strategies expert Ramadhan Hamza has been closely monitoring the problem of water pollution for years. He has taken up many positions in that regard, including the post of director of the Water and Power Strategies Institute in the Kurdistan Region of Iraq (KRI) and the secretariat of the International Association for Water Geology.
According to Hamza, the water pollution problem in Iraq can be characterized as a "serious violation of water security considering the fatal diseases it causes, including different types of cancer."
The water flows slowly down the river tributaries of Duhok to Basra and into many headwaters and waterways. Throughout these vast areas, "Wastes and sewage are poured into the scarce waters which can only push these pollutants to [Basra's] Shatt Al-Arab waterway where these wastes remain and interact with the soils and produce a contaminated environment in which heavy metals are deposited and impact the fish stocks and trees," Hamza says.
Moreover, Hamza added, "The crops cultivated in Iraq as well as fish and livestock with what they produce of meat and dairy, also contain traces of these pollutants. For this reason, we find that the physical structure of many Iraqis is, as a result, frail and weak." Hamza states, "85 percent of diseases that children suffer from are caused by water and impact adults as well."
During his employment in KRI, he says he came across fatalities caused by water contamination, among which were deaths recorded in Basra. "The problem is exacerbated in Basra since it is home to the confluence of the Euphrates and Tigris rivers, which constitute the Shatt Al-Arab. The polluted waters come together from all over Iraq and snowball into Basra," Hamza says.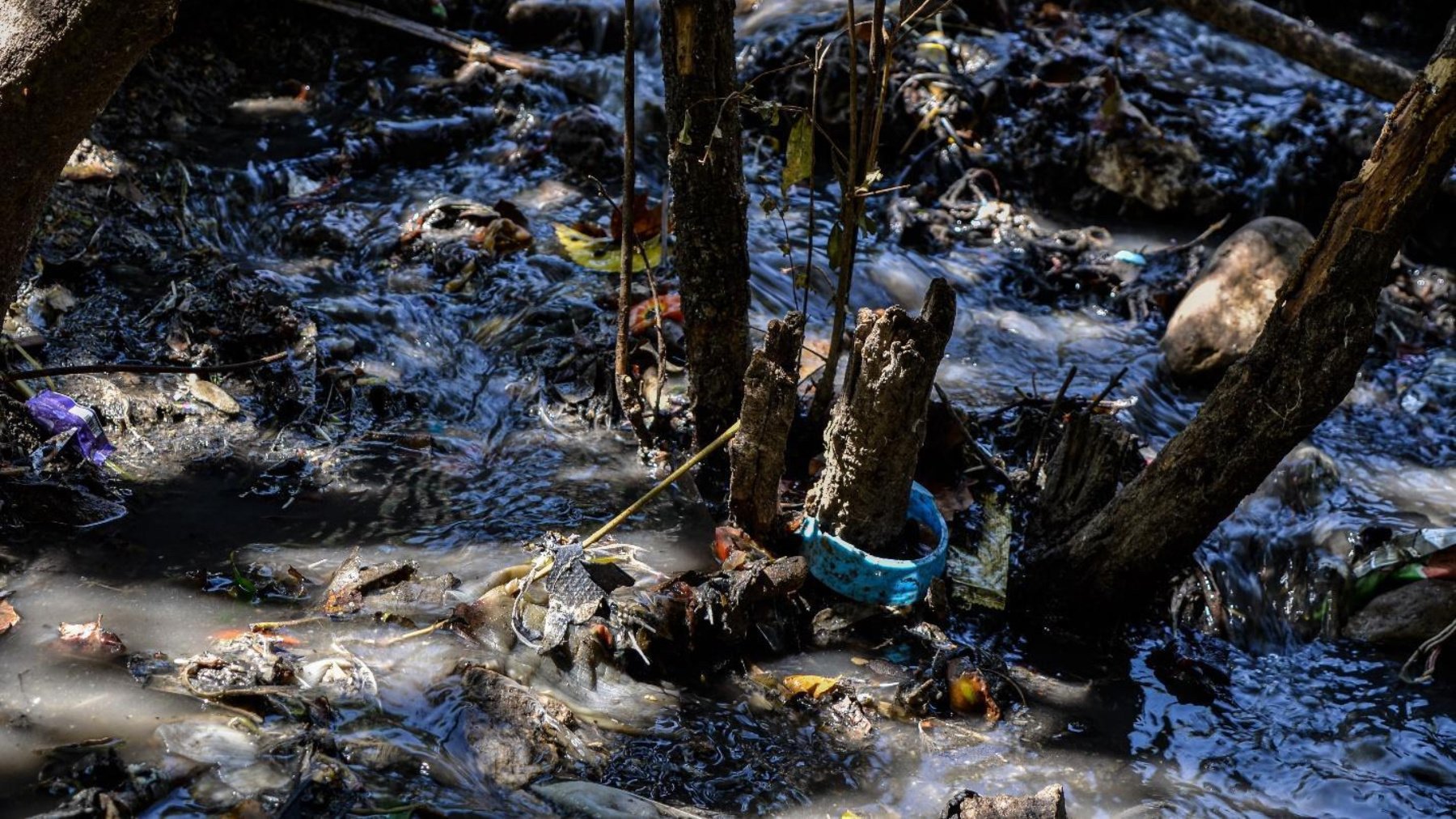 Black water flows between homes in the town of Shaqlawa, Iraqi Kurdistan (MEE/Lyse Mauvais)


Oil in Kirkuk Waters
Not far from Duhok is oil-rich Kirkuk. In this governorate, there is a valley filled with oil that flows out of the Kirkuk Oil Company (previously North Oil Company), which operates oilfields. This valley spans vast distances adjacent to agricultural lands.
According to Kirkuk's Department of Agriculture director, Zuhair Ali, "Damage has been inflicted on some 80 thousand dunums [80 Square Kilometers/approximately 30.8 Square Miles] of agricultural lands by this black river known by locals as 'The Oil Valley.'"
Speaking to the Iraqi Observatory for Human Rights, Ali added, "The lands that are situated at the alps and edges of the valley are barren lands, and the farmers' losses to owners are estimated at around 450 million Iraqi dinars (approximately 100 thousand US dollars) each year."
In addition to economic losses, health problems also ensue from the Oil Valley. Many farmers in local villages rely on waters contaminated with oil discharge operations to irrigate their crops which "are later consumed by the people."
The apparent and direct harm caused by water contamination is less severe than what will unfold in the medium and long term, says Hamza, who warns, "They will be very harmful!" 
"Rivers of Wastewater in Diyala"
In Diyala, which neighbors Kirkuk, people also suffer from water pollution. Diyala has a river that is named after it. However, this river has transformed into a sewerage area because of the drought and decreasing water levels.
 
The circumstances of Diyalans are no better than those of Basrans or Iraqis in any other Iraqi city that suffers from pollution. The governorate of Diyala, which shares borders with Iran and often suffers from the Iranian government's cutting water supplies from its rivers and tributaries, is also grappling with water pollution and dropping water levels.

 The droughts have prompted Diyalan farmers to rely on sewage water for irrigation, a move that further exacerbated the pollution, a root cause behind many diseases that Iraqis suffer from.
Abdullah Al-Shammari has taken up government posts in the environmental sector, including Diyala environmental director. He tells the Iraqi Observatory for Human Rights, "Pollution in Diyala's rivers has led to a 50 percent decrease in the governorate's fish stocks." He adds that while "rains naturally reduce pollution wastes, the factors causing it persists," thus leading its levels to continue to rise.
Shammari notes that "large amounts of wastewater are being directed at rivers which are also used as dumps to dispose of litter." According to him, there are no less than 30 lawsuits in courts of law against departments and institutions, some of which are governmental, that are involved in contaminating Diyala governorate's waters.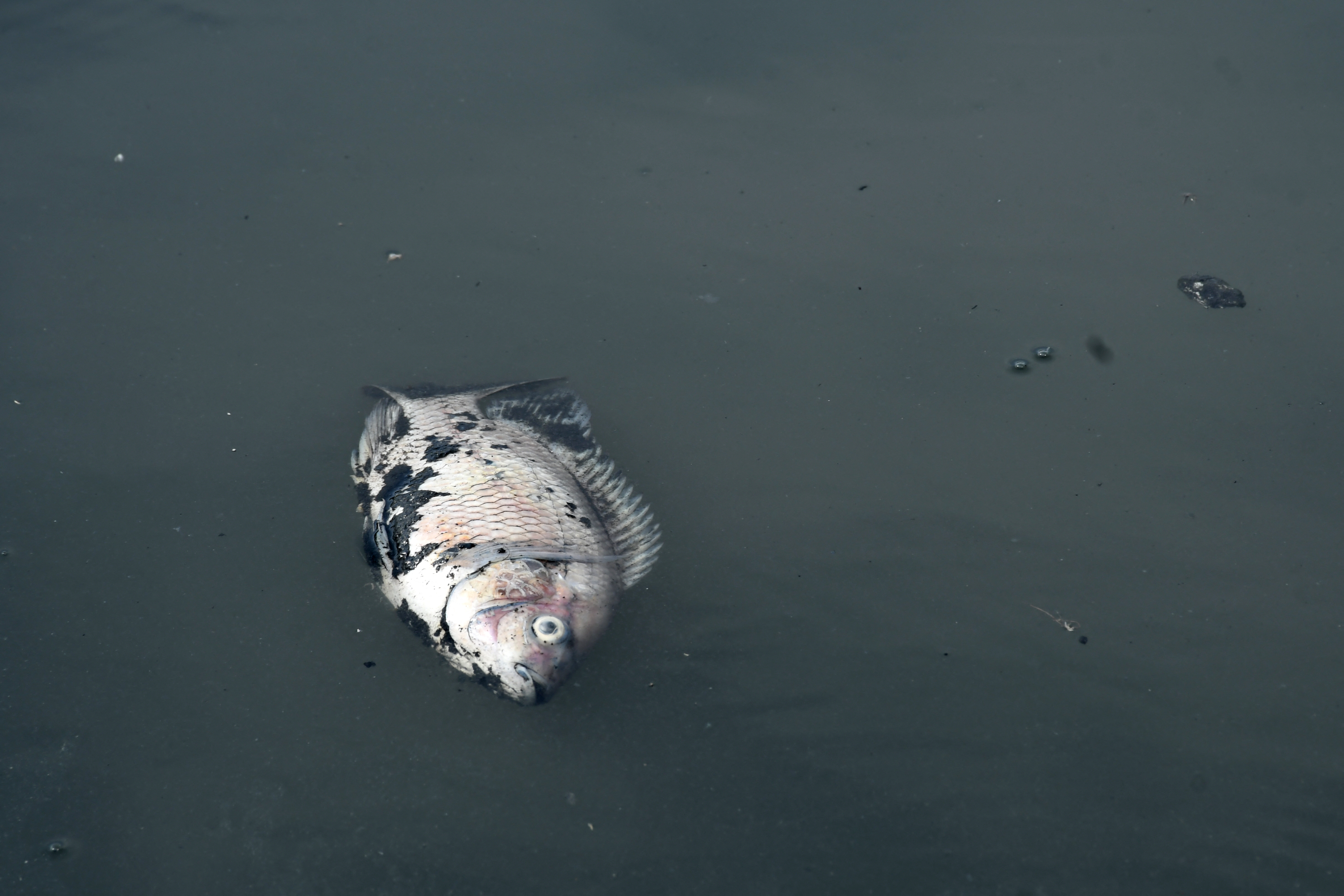 Fish deaths due to water pollution - (Asaad Niazi/AFP)
The Tigris River in Baghdad: A Sufferer of Hospitals and Oil Refineries
The Tigris River slices the Iraqi capital Baghdad in the middle and its apparent pollution can be noticed by the naked eye significantly when its water levels drop. Along Abu Nuwas Street, on the riverbank facing the governmental center, Green Zone, unpleasant odors are smelled during the night sometimes. The reason behind these smells is the sewage discharge released from the district of Karrada into the river.
The spokesman for the Iraqi Ministry of Water Resources Ali Radi has said in press statements that "The reason behind water contamination is the disposal of wastes in rivers and the failure to purify the water flowing into them by the Municipality of Baghdad and its departments due to the dilapidated sewage treatment plants."
In the embedded video, an Iraqi doctor, Mohsen Laji, can be seen conducting a lab examination of the main tap water supplied in Baghdad, namely supplied by the Rusafa water project. The test shows the high levels of water pollution which makes it unsuitable for human consumption.
A non-governmental environmental organization, Humat Nahr Dijlah (Protectors of the Tigris River), in 2020 stated that "The Baghdad Medical City (a public medical complex) that is situated at the Tigris riverbank in the center of the Iraqi capital disposes of the wastes of 1000 patients in the river."
The organization added, "Among the most notable materials discharged near the river due to the hospital's activities are formaldehyde, chemicals used in the development and processing of images, acetone and methanol solvents, mercury, as well as the female hormone estrogen. Large quantities of antibiotics and medications used to treat cancerous tumors" are also among the disposed of wastes.
These toxins and chemical pesticides, commonly used in fishing, have transformed the waters of the Euphrates and Tigris rivers into "a swampland for whatever is harmful," as environmental activist Ahmad Hamdan Al-Jash'ami worded it. Speaking to the Iraqi Observatory for Human Rights, Jash'ami added, "This problem is plaguing the residents of districts and cities adjacent to these rivers. 
It has led to a significant increase in the cases of cancerous diseases among them, as well as other illnesses such as bilharzia, malaria, chickenpox, and skin and digestive diseases, which has, in turn, led to record high fatalities amongst these residents as well."
Unmonitored Purification Plants
Iraqis no longer rely on tap water for drinking or use. The booming water bottling and purification plants scattered across the country have made this particularly evident. Notably, these plants operate randomly without reliable government monitoring or professional requirements and specialization from their owners or workers.
"You only need tap water, cheap sterilization materials, and a place to dispose of what remains from the purification process," says Fadhil Mohammad, whose family runs such a plant in the southern governorate of Babil.
The Iraqi Observatory for Human Rights contacted the Ministry of Health for comment. However, the ministry's spokesman refused to talk and instead noted that the Ministry of Environment was the relevant body concerned with such cases. We could also not get a comment from the Iraqi Ministry of Environment.
In legal terms, affected parties can lodge complaints against government bodies and institutions that are proven to be implicated in water pollution. Such complaints can also be lodged against implicated water purification plants that operate without government monitoring or regulation.
Speaking to the Iraqi Observatory for Human Rights, legal expert Ali Al-Tamimi stated, "Such complaints may be lodged at the court of first instance, which has the final say in such cases and can either award compensation or dismiss the lawsuits."
Proposed Solutions
We have asked the experts we spoke to about possible solutions that could lessen the severity of water pollution in Iraq.
Water Policies and Strategies expert Ramadhan Hamza said, "The first step begins from the government's allocating a budget to treat the problem while raising environmental awareness." Hamza asserted the need for "Health and other institutions to refrain from disposing of wastewater that ensues from their operations directly in rivers, and instead recycle and treat these waters prior." Moreover, he added that a law that fines persons and bodies contributing to water pollution should be activated, considering the significant sums of state budget spent to purchase medications that treat illnesses caused by this scourge.
On his part, environmental activist Ahmad Hamdan Al-Jash'ami demands that environmental regulations and governing laws be implemented and that specialists are allowed to take action "so that our rivers can recover as is the case in civilized countries." He adds, "While this is neither hard nor impossible, the government has to prove its seriousness in this dossier before it is too late."
As for water pollution in Diyala governorate, environmental expert Abdullah Al-Shammari asserts that this issue can only be tackled by reinforcing the rule of law. He believes such an effort should go hand in hand with implementing awareness programs that educate members of society about the health hazards of water pollution and the resulting diseases and illnesses.
The Iraqi Observatory for Human Rights calls on specialized authorities to show more seriousness and expert utmost efforts to tackle the water pollution crisis in Iraq. The Observatory also urges authorities to consult with experts and specialists in the field and adopt effective measures and steps that go in line with the scale of the risks that are posed ahead of everyone, especially the underprivileged persons who do not have the luxury of buying bottled purified water from specialized plants.
The Iraqi Observatory for Human Rights states that all segments of society are at high risk, if not directly from contaminated waters, then indirectly through crops irrigated with such waters.
Accordingly, the Observatory asserts the need to provide an alternative solution to dispose of sewage wastewater instead of pouring them into rivers. Authorities should also rise to their responsibility of making sure that factories, hospitals, and plants are disposing of the wastes ensuing from their operations in a proper and unharmful manner.
The Observatory reiterates what the experts have stated regarding the long-term hazards of this problem being left without scientific treatment. The Observatory also stresses the need to be mindful of the lives that continue to be lost due to this crisis and also of how hard it would be for future generations to treat such a deep-rooted environmental crisis.