Iraqi journalists attacked - IOHR PRIVATE PHOTOS
The Iraqi Observatory for Human Rights (September 1, 2022) said that all sides to the violence that erupted in the Green Zone on August 29 and 30, 2022, viewed journalists and the media as their enemies and actively targeted them, with several instances of targeting nearly resulting in their death.
Eight field journalists who were covering the protests and the armed conflict between the 29th and 30th of last August gave their testimonies to the Iraqi Observatory for Human Rights, and they confirmed through the observatory's testimonies that they had been directly targeted by protesters and had been armed alongside them, along with security personnel and other elements who were wearing black uniforms without identification badges.
The Iraqi Journalists Syndicate, whose duty is to protect and defend media workers and their rights, did not move a finger about the violations against journalists. This is a dangerous sign for the union, and its members should be aware of their institution.
''They took my cameras and my pocket money''
These events and testimonies back up what the Iraqi Observatory for Human Rights said in its report, which it published on May 3, 2022, on World Press Freedom Day, in which it mentioned the rising influence of those who oppose press freedom in Iraq. It seems that the base of those who oppose press freedom is expanding in Iraq at a time when the country is witnessing cases of impunity for all perpetrators of violations.
A video of Hadi Mazban, an Associated Press photographer, which was shared on the Iraqi Observatory for Human Rights Facebook page, showed him being physically assaulted by the Special Operations Force. He added in the videotape, "They beat me and stole my belongings, including my cameras and money. A lieutenant colonel beat me".
The Iraqi Observatory for Human Rights said that "security personnel still behave disrespectfully toward journalists. They continue to insult and attack them. Some security figures in Iraq have a bad understanding of the press which causes massive and large-scale attacks.''
"Mortar shrapnel lodged in my face''
Mustafa Latif, a correspondent for (Dijla) channel, said in an interview with the Iraqi Observatory for Human Rights: "On Tuesday at noon, we started our regular coverage of the recent events that took place in Baghdad. We were near Salhiya Police Station, monitoring the confrontations between the protesters and the forces inside the Green Zone".
He added, "We were rained by mortar shells. I was hit in the face and neck. The shrapnel is still stable in my face. After being injured, I was subsequently transferred to Al-Karama Hospital and then, taken to Al-Kadhimiya Hospital, where they revealed my health condition and told me that the shrapnel was stable and that I need to be under periodic monitoring until then the shrapnel was removed.
Article 9 of the Journalists' Protection Law of 2011 postulates: "Anyone who assaults a journalist while performing his or her profession shall be punished with the penalty prescribed for anyone who assaults an employee during or because of his job".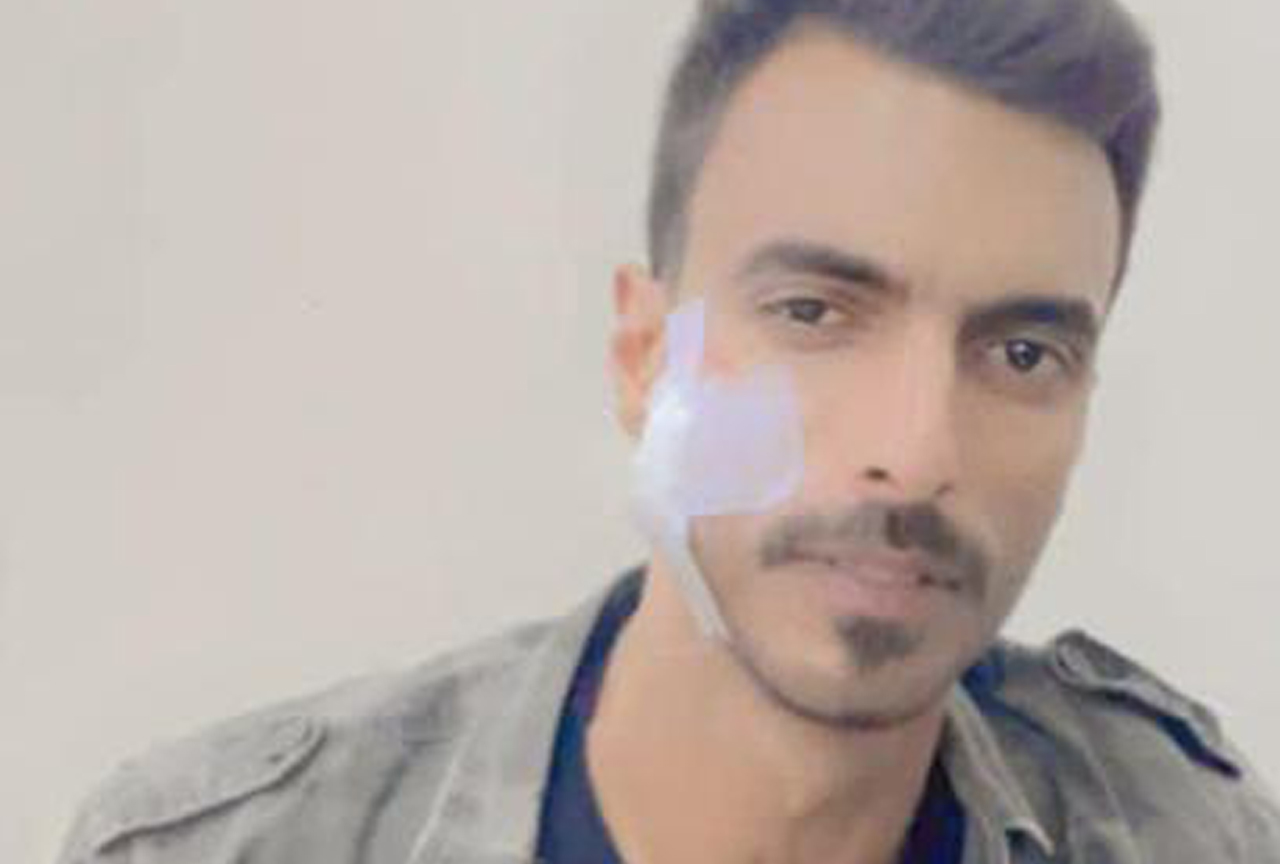 ''Bullets heard passing close by"
Badr Al-Rikabi, a correspondent for Al-Tagheer TV. Channel, said: "me and my colleague, photographer Abdullah Abdul-Karim, were beaten with sticks, insulted, and threatened with weapons. An unknown force wearing black clothes with a veil on their face broke our tools and equipment. That was because we are Journalists reporting events and covering developments".
He added: "After we left the governmental palace to Parliament with great difficulty from the barrage of bullets and tear gas bombs that were not aimed at the sky but toward the demonstrators as we were walking in their midst, we expected that we would be injured at any moment because the sounds of bullets were passing close by and the gas bombs exploded near us. We saw some of the protesters who were running near us falling".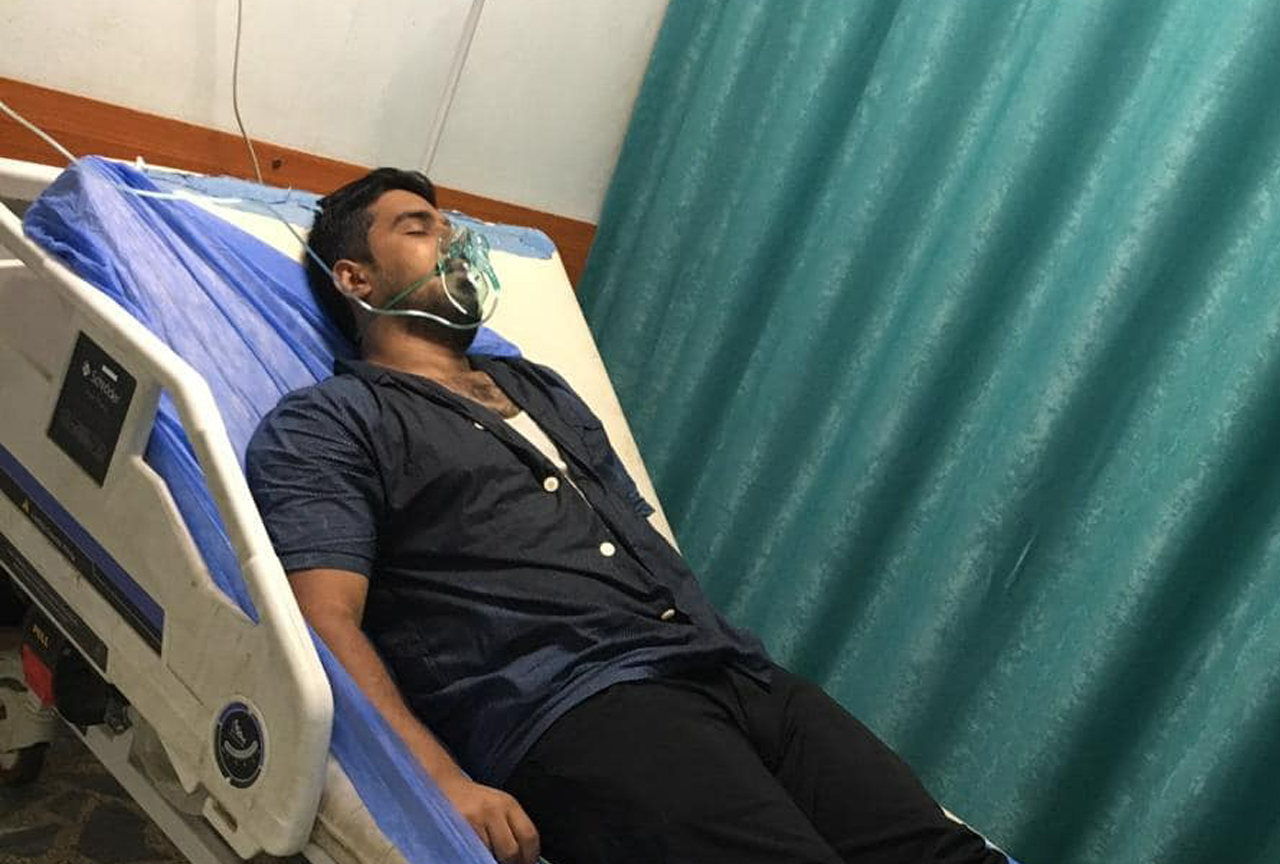 Bader Al-Rikabi added '' We asked the army for help after we were exhausted and unable to run anymore, but they refused to provide us with assistance because they insisted to push the demonstrators and bringing them to Parliament by force. After we reached Parliament, our health deteriorated as a result of inhaling the tear gas that was being thrown at us, so we were taken to the nearest hospital. Oxygen and first aid were given to us".
Wissam Falih R., a cameraman for the (Kurdsat) TV channel, said in an interview with the Iraqi Observatory for Human Rights: "the demonstrators attacked me and my colleague Beston Abdul Salam. They attacked and insulted us while we were on live broadcast, accusing us of being a channel of the Patriotic Union of Kurdistan. We left there and then another group came and beat us as well. That didn't end until an official security force intervened. That happened at the beginning of the armed confrontations, which was between five and six in the afternoon".
He also added, "At 8: 00 pm, we were also on a live broadcast in the Al-Alawi area, where another group of protesters cursed and beat us as well".
''A force in black uniform beat me up'' 
Muntazer Jaafar, a cameraman for Rudaw TV, said in an interview with the Iraqi Observatory for Human Rights: "my colleague Halkut Aziz, the channel's correspondent and I were covered in a live broadcast and then the demonstrators entered the government palace. The security forces attacked them and forced them to withdraw. We withdrew with them from one outlet. When we got out of the palace, we came across a force wearing black uniforms which then took all my equipment and beat me. I left them and ran away".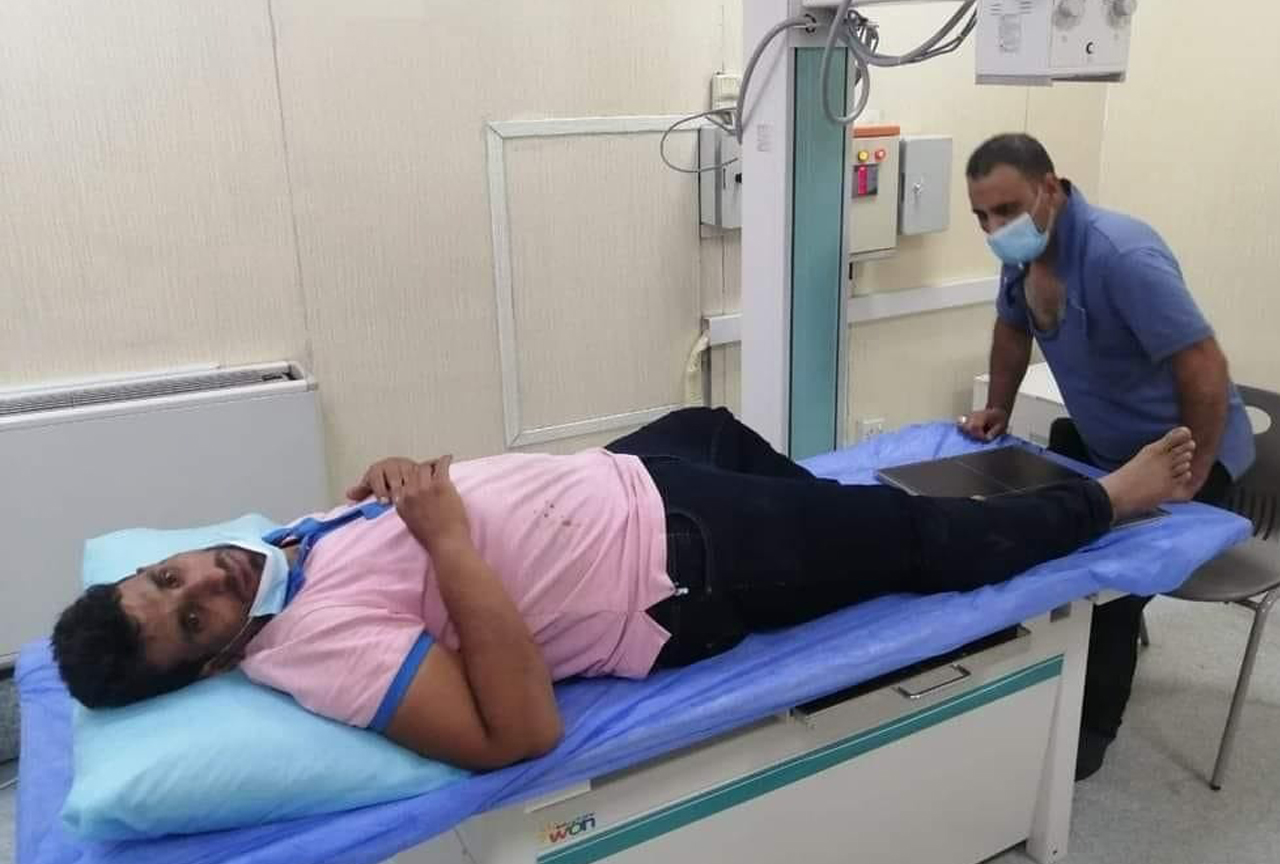 "The second staff of the channel, which includes colleagues Haider Dosky and Hajar Khurshid, was also attacked, and the equipment, including a MacBook laptop computer, was confiscated. They beat them severely without any reason.'' He added.
''A stun grenade broke our reporter's leg''
Ali Abdel Karim, a correspondent for the (Fallujah) TV channel, said in an interview with the Iraqi Observatory for Human Rights: "Two of our colleagues, Saif Ali and Hassan Al-Khafaji, were injured while covering the protests. When the confrontations broke out, the two colleagues escaped and then a stun grenade exploded on Saif.'' Now he has a problem with his middle ear, and a fungus in his leg".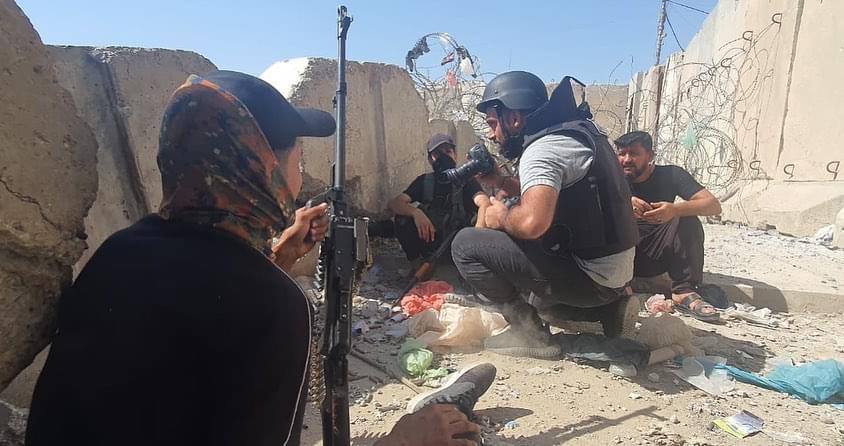 He added: "As for Hasan Qassar, he was captured by a security force inside the government palace. This force wears a black uniform and its affiliation is unknown. It broke the camera and the rest of the tools and insulted them, and five people beat Hassan".
As for Al-Jazeera staff whose reporter Samer Youssef was on live broadcast inside the government palace, armed men wearing black uniforms affiliated with the Special Division attacked him. The staff was beaten with batons and in danger of live bullets, according to a journalist eyewitness.
This journalist said in an interview with the Iraqi Observatory for Human Rights that "their car helped them take cover because it was bulletproof".
"A colleague eyewitness added: ''A security force stopped the car and drag the driver out of it, the staff could not escape before handing them over the cameras and photographic equipment. Even during their escape, another force attacked the car".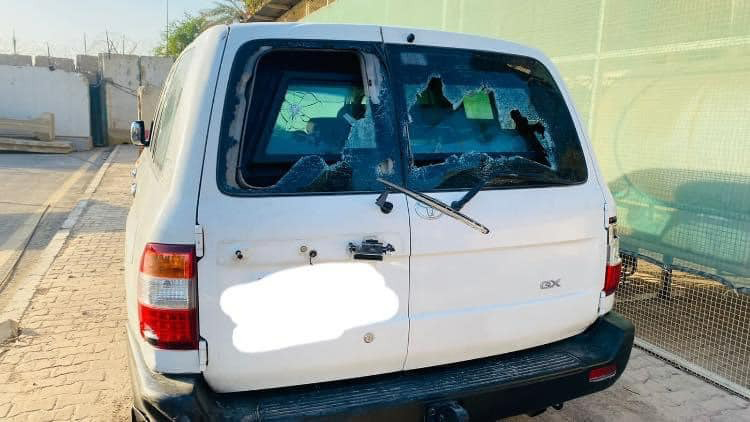 "A reporter's hand broke and a photographer's hand torn'' 
Haider Al-Sheikh, a reporter for (Shafaq News) agency, said in an interview with the Iraqi Observatory for Human Rights: "At 4:22 p.m. on Monday while covering Sadrist movement's storming of Republic Palace and their attempt to cross the hanging bridge to reach Al-Jadriya and the sit-in of the Coordinating Framework masses, a shooting occurred on the hanging bridge. I was hit by a rubber bullet in my hand, and I fell to the ground and was taken to hospital".
He added: "x-rays showed that I had a fracture in my hand, and as a result I had my hand splinted. It was a very hard time".
As for Kamal Raad, a cameraman for (Dijla) TV Channel, he said in an interview with the Iraqi Observatory for Human Rights: "We were in the live broadcast near Salhiya Police Station in front of the parliament, and a mortar shell fell meters away from us. We miraculously survived. I have a tear in my hand now, and my colleague Mustafa was injured in the face".
The Iraqi Observatory for Human Rights said that all sides to the conflict were directly targeting journalists, and it appears that they have all come to the understanding that journalists are their opponents. These strategies and tactics are not new and show that there is a lack of press freedom in Iraq as well as the dangers that face on-the-field reporters.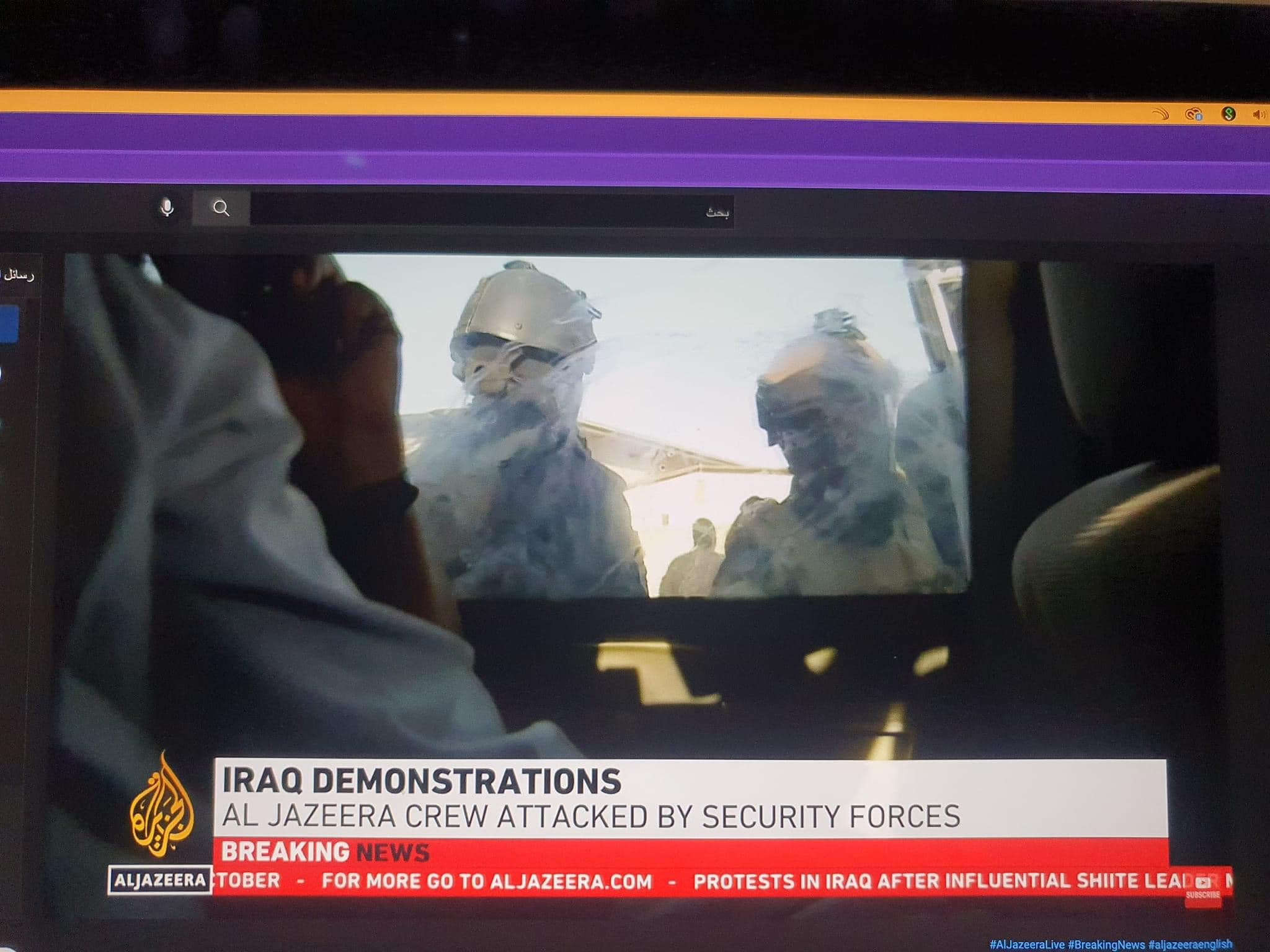 Sadly, the Administration of Prime Minister Mustafa Al-Kadhimi did not protect journalists and did not hold any of the perpetrators of violations against them accountable, even those who belong to the military and there is evidence against them. Although press freedom is the cornerstone of every democratic society, it appears that Iraqi governments do not prioritize protecting journalists and their rights.
The Iraqi Observatory for Human Rights requests that media organizations supply professional safety equipment so that journalists can cover protests and conflicts. It also calls on all parties to the conflict and armed conflict not to consider the press their enemy, as this can create an unsafe work environment that undermines the access of information and facts to the public.